Early Autumn 2021 Update: Halo Integration, 1.1.x.23 in General Availability, Syncro API update
Happy Autumn! We continue to be hard at work, thanks to your open-handed questions and suggestions. We're grateful for so many thoughtful, fun, and clever partners and are excited to roll out this series of updates for you, with more planned through the holiday season, so keep an eye out.
Halo Integration
We're sure it is obvious that we value rapid development and new approaches to old problems, and so it should be no surprise that we respect how Halo has consistently shown their commitment to IT Support Professionals' needs and requests, offering a powerful and flexible product also based on community feedback. A large portion of you have asked for this integration, and now, Halo PSA/ITSM/Service Desk helpdesks can solve tickets faster, communicate better, and win clients at the press of a button.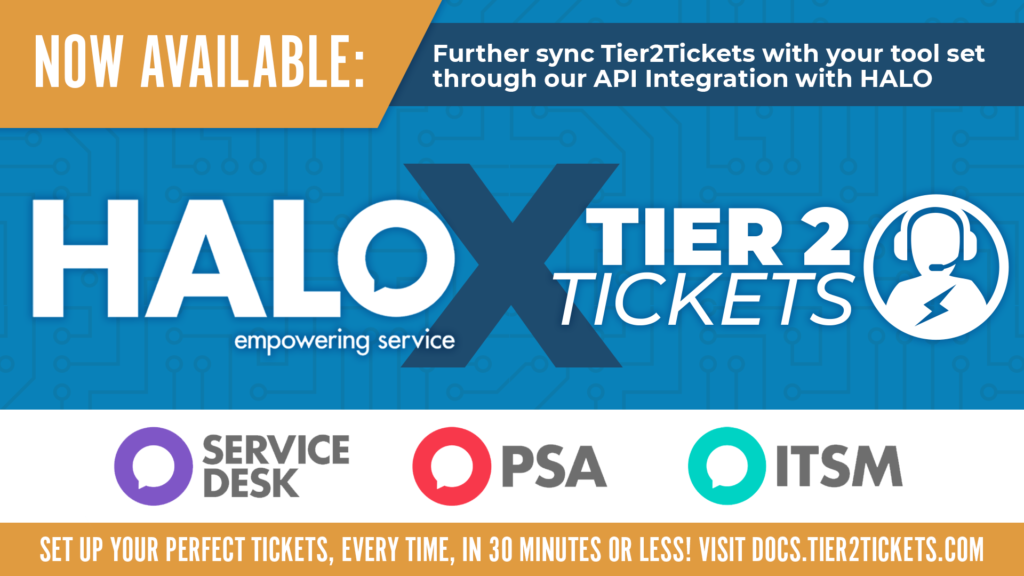 Get your integration set up following our documentation here: https://docs.tier2tickets.com/content/integration/halo/
General Availability is now v1.1.x.23
Now, faster reporting. 1.1.x.23's big brag includes major reworks to make the diagnostic report building faster (1/10 of the time in many cases!), and lighter on resources when running on terminal servers. https://docs.tier2tickets.com/content/general/changelog/#x-23
Bug Fixes
View our report on iOS and Safari on Macs. IPhone and Mac-owning technicians, rejoice! We've squashed a bug in our CORS Policy, so you can now view our report in Safari and on your mobile device. If you're using our Compliance Package, you will need to update the Gatekeeper. We're reaching out to individual accounts to ensure connection, but otherwise contact Support and we'll get you sorted.
Wake Command. In order to collect accurate Online/Offline information, our software was inadvertently keeping devices from sleeping. This has been fixed for all versions of the software at the installer level, so just create a new build and deploy.
Temporary Files. Fixed the temporary files bug that created hundreds of files over time and didn't clean them up.
Key-combination conflicts: Software so that it will no longer conflict with key-combinations used in other softwares.
This only scratches the surface of features we've added since v1.1.x.18. Read about all of the updates we made in 1.1.x.19-1.1.x.22 here.
Syncro/RepairShopr Update: Matching by Domain
In Syncro, we've added another method of Customer matching, by Domain. Now, if a user submits a ticket with an email address that isn't in Syncro, our API will attempt to submit the ticket to a Customer sharing that same domain.
Read more here: https://docs.tier2tickets.com/content/integration/repairshopr/#if-contact-is-not-in-syncro
Training Videos
The number one thing we've found that helps with client adoption is technician buy-in and promotion of Tier2Tickets. As a result, a huge number of you have asked for technician training videos for you and your people who may be unfamiliar with the tools available to them since we've added so many features so quickly. To help make sure you and your crew have a handle on the things we've made to help them diagnose and resolve tickets faster, we've made a general training video and a Deep dive on the report:
Technician Training Video: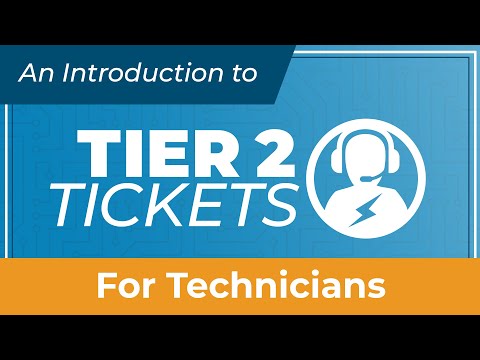 Report Deep Dive: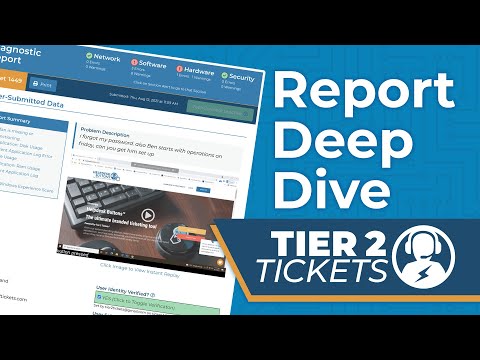 Thank you again for your excitement and support. As always, you can reach out to us at [email protected] for any questions, feature requests, or assistance that you need.
We'll be back in touch later this quarter with some more amazing updates, see you then!